34-Pallet Drop Deck Trailers
If you carry high loads, machinery, silage or are just seeking to maximise your cubic capacity, the freighter drop deck trailers for sale at Regal Trailers are the perfect choice.
Regal Trailers has a huge selection of drop deck extendable trailers for sale available in multiple designs and configurations for fulfilling specific hauling tasks. Featuring Regal Trailer's short, extra strong gooseneck, our drop deck semi-trailers are specifically engineered to optimise pallet capacity and spacing on both upper and lower decks, depending on your freight requirements. The lower deck of our freighter drop deck trailers provides the extra height clearance needed to haul particularly tall cargo while adhering to all Australian vehicle height requirements.
We've earned a reputation for designing and manufacturing the highest quality freighter drop deck trailers in Melbourne due to the top-of-the-line technology and quality components we use. Our drop deck semi-trailers are equipped with Fuwa Suspension, Wie coaming rails, silver floor chassis and undercarriage, polished alloy outer wheels, stainless steel toolboxes and water tank. Our drop deck semi-trailers are also designed to make your business more profitable with a low tare weight and high payload. All together, it offers a very convenient package and is in stock and ready to deliver now.
Enquire Today
If you want to know "where can I buy drop deck trailers near me?", get in touch with Regal Trailers today. Call us on 0413 202 802 or contact us online to place your order.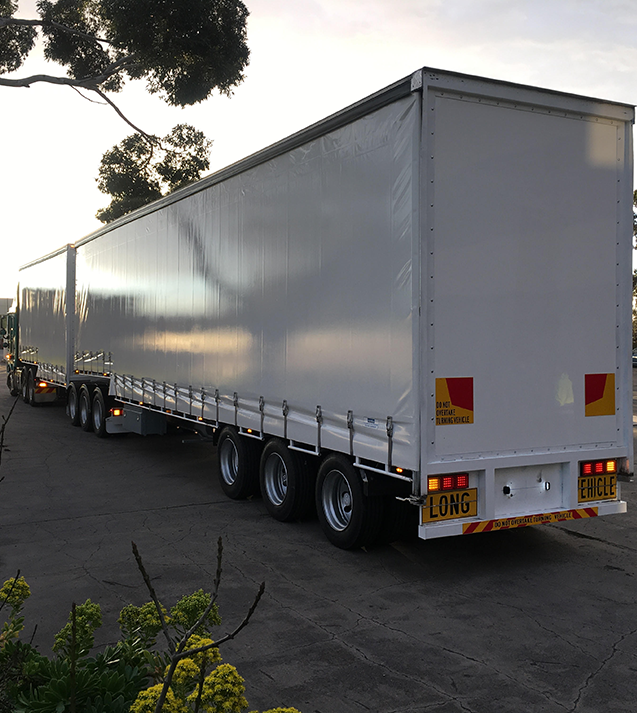 Drop Deck Trailers Gallery
Location
1 Glencairn Avenue
Deer Park
Victoria, 3023, Australia